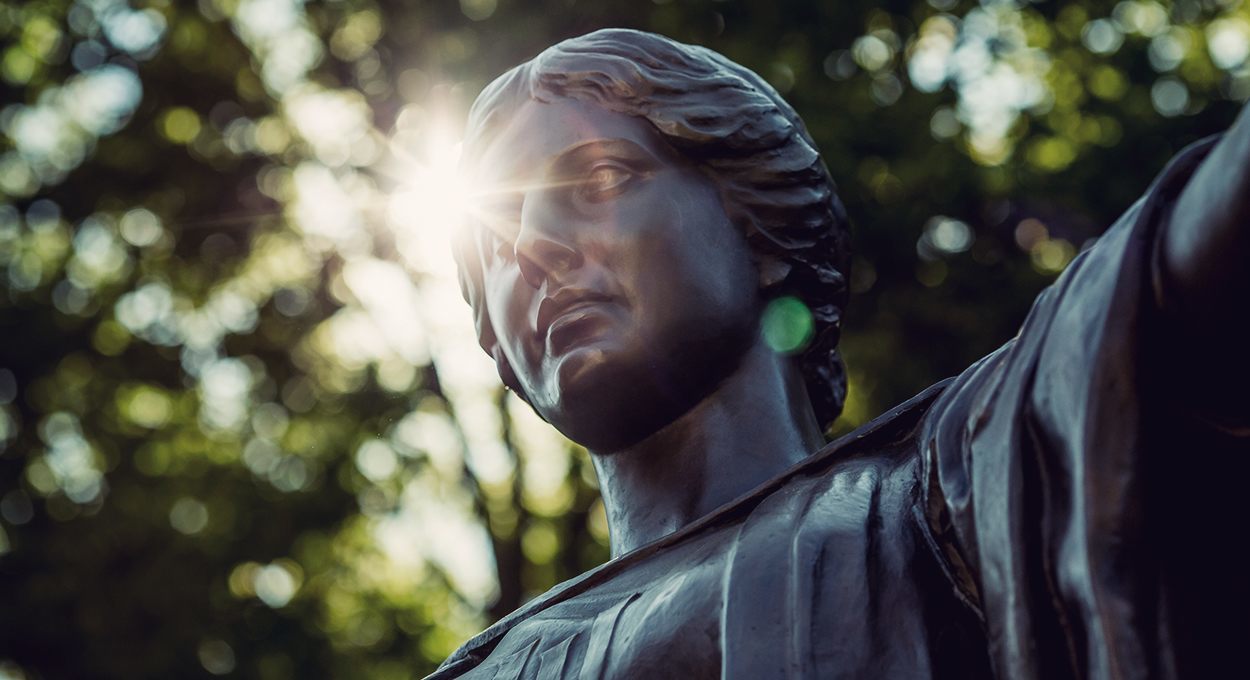 Illinois Facts
Campus Facts
History
The University of Illinois at Urbana-Champaign is one of the original 37 public land-grant institutions created after President Abraham Lincoln signed the Morrill Act in 1862.
Important Dates
1867

Illinois Industrial University founded

1868

Illinois Industrial University opened

1885

Renamed the University of Illinois
Location
The university is in the twin cities of Champaign and Urbana (total population 207,000) in east-central Illinois. Situated about 140 miles south of Chicago, 125 miles west of Indianapolis, and 180 miles northeast of St. Louis.

Longitude + Latitude of the Quad
15 Colleges and Instructional Units
Academic Resources
Library Collections
24,000,000+

Items mark one of the largest public university libraries in the world

1,000,000+

Visitors to the online catalog every week

20+

Area studies libraries; one of the larger engineering libraries in the country, state-of-the-art agricultural library, and world-renowned rare book and manuscript library
Campus Research
$743,000,000

Spending on research and development in science and engineering in 2013
Computing
100%

Of all classrooms have wireless access

360

Buildings on- and off-campus have wireless access

$29.4

Million initiative implementing increased community access to high-speed fiber-optic Internet and developing community-wide Intranet with special federal and state funding
Campus Life
Cultural Centers
These centers offer the entire campus community opportunities to learn about and to experience the rich historic traditions and modern living cultures that shape our world.
Facilities
353

Main campus buildings, 2.8 square miles (1,783 acres)

647

Total buildings, 7.1 square miles (4,552 acres)
Museums, Galleries, and Collections
4

Theaters in the Krannert Center for the Performing Arts seat about 4,000 and annually host 350+ student and professional performances, as well as commencements, lectures, and other events, many of them free

9,000+

Works of art at Krannert Art Museum and Kinkead Pavilion's permanent collection, KAM hosts high-caliber temporary exhibitions and interdisciplinary programs

46,000

Artifacts of global cultures at the Spurlock Museum

75%

Of John Philip Sousa's original music manuscripts, the world's largest collection, at the Sousa Archives and Center for American Music
Sports and Recreation
10 & 11

Number of men's and women's (NCAA) teams (respectively) with 14 major facilities including Memorial Stadium (62,000 seating), the State Farm Center (17,200 seating), Atkins Tennis Center, Huff Hall (4,000 seating), Illinois Field (3,000 seats for baseball), Eichelberger Field (1,500 seats for softball), the Illini Track and Soccer Stadium, two 18-hole championship golf courses with driving range and the newly opened Demirjian Golf Practice Facility

470,000

Square feet of recreational space between two newly expanded campus recreation and wellness centers. Includes indoor tracks, leisure pool with slide, climbing wall, basketball and racquetball courts, indoor and outdoor 50-meter pools, and much more; other recreational facilities include an ice arena, outdoor adventures center, inline skating rink, and several play fields

100,000

People visit the Robert Allerton Park and Conference Center (1,500-acre national landmark located 24 miles from campus) each year

16,000

Daily visitors to the Illini Union have access to a hotel, banquet facility, food court, art gallery, and recreation room; Two ballrooms and 24 break-out rooms are available for conferences, meetings, and events
Housing
23

Undergraduate University residence halls accommodate 8,550 students, including nine Living-Learning Communities

$10,363

Per year for double room and board (20 meals/week) in 2013-14

6,000

Undergraduate students living in 16 private certified housing units and 62 Greek houses

2,000

Single graduate students or students with families living in two University-owned apartment complexes; two residence halls are home for 720 graduate students

1,000+

Registered student organizations, coalitions, honorary societies, and teams
Programs and Services for People with Disabilities
#1

Rated as one of the most "disability friendly" U.S. campuses

First

First to provide students with disabilities access to all university services, curricula, and facilities; developed first architectural accessibility standards; designed & instituted a wheelchair-accessible bus system; first to offer comprehensive wheelchair sports programming

First

Developed the first transitional living program for students with physical disabilities needing personal assistant support services. Students with physical disabilities who require personal assistant support services have an 87 percent graduation rate; nearly 60 percent obtain employment within a year of graduation, while another 32 percent enroll in graduate or professional schools
International Programs and Studies
2,027

Study abroad students in 2012-2013 participated in more than 400 programs and affiliations in more than 60 countries; ranked 16th in the nation's "Top 20 Research Institutions" in number of students studying abroad

10,843

International students in 2013-14 from 119 countries; #1 in most recent ranking of the nation's "Top 20 Research Institutions" in number of international students
Undergraduate Education
32,579

Students from 50 states

6,937

New freshmen enrolled in fall 2014

35,000

Annual applicants (roughly)

5,332

International undergraduate students

5,000+

Courses offered

150+

Programs of study
Student Success
72

Of America's Fortune 100 companies (including 8 of the top 10) recruited on campus last year

5,123

Companies recruited on campus in 2013-14

14,158

Student interviews were conducted on campus
Undergraduate Base Tuition and Fees (Fall 2014)
$15,602

A year for residents

$30,228

A year for nonresidents (guaranteed four-year tuition rate, some colleges assess separately)
Illinois Promise funds the estimated cost of tuition, fees, room, board, and books for low-income students
Graduate and Professional Education
11,024

Graduate and professional students

Top 10

Among the top ten U.S. universities in number of earned doctorates awarded annually
Graduate Base Tuition and Fees (Fall 2014)
$15,560

A year for residents

$29,282

A year for nonresidents (law, medicine, and veterinary medicine assessed separately
People
Students (Fall 2014)
43,603

Total students

32,579

Undergraduate students

11,024

Graduate and professional students

55%

Men

45%

Women

5.0%

African-American

7.0%

Latino/a

14.0%

Asian-American

2%

Multiracial

14%

International
Faculty (FTE Fall 2014)
2,729

Members

1,903

Tenure/tenure track

826

Visiting faculty & instructional staff (headcount: 1,071)
Staff (FTE Fall 2014)
3,982

Administrative and academic professional

4,332

Support staff
Alumni
450,000+

Living alumni of the University of Illinois at Urbana-Champaign, one of the largest U.S. alumni organizations
Administration
Campus Administration
Robert J. Jones, Chancellor
John Wilkin, Interim Provost and Interim Vice Chancellor for Academic Affairs
Barry Benson, Vice Chancellor for Institutional Advancement
C. Renee Romano, Vice Chancellor for Student Affairs
Peter E. Schiffer, Vice Chancellor for Research
University Administration
President

Board of Trustees

Ramon Cepeda
Patrick J. Fitzgerald
Timothy N. Koritz
Edward L. McMillan
James D. Montgomery
Jill B. Smart

Board of Trustees, Student Members

Collin Schumock, Urbana-Champaign
Danielle Leibowitz, Chicago (voting member)
Hannah Cave, Springfield
Admissions & Visitor Information
Undergraduate Admissions: Office of Admissions
901 West Illinois Street, Urbana, IL 61801; 217-333-0302, ugradadmissions@illinois.edu
Graduate Admissions
801 S. Wright Street, Champaign, IL 61820; International/Domestic: 217-244-4637, grad@illinois.edu
Campus Visits: Office of Admissions
901 West Illinois Street, Urbana, IL 61801, 217-333-0824, visits@illinois.edu (hosts 30,000 prospective students and their families annually)